JewelGirls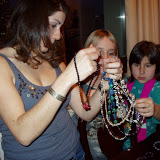 The JewelGirls Programme in Russia started in 2009. Workshops are held both in the city of Moscow itself and elsewhere in the Moscow region.
More than 30 children and adolescents aged from 7 to 15 (both girls and boys) participate in this project regularly. Most of them have in the past suffered from violence within their families. They have acces to JewelGirls classes at children's homes, orphanages and shelters where they are temporary accommodated. During our group sessions we also provide them with psychological and social assistance and support.
Once a month we organize a sales party where we sell new jewellery made by the children who are also invited to these events.
We also attempt to inform and educate Russian people and people involved in international social networks about our work. You can see pictures of the jewellery we have made on our livejournal site: community.livejournal.com/jewelgirlsrus/