Summer Camp 2011
The report on ROOF's 2011 Summer Camp in Belskoye-Ustye is now available. With many photos of children and volunteers, and with text written by a variety of the volunteers, you can get a full picture of the events of this past July.
[To view the report full-screen, click the 'Expand' button that appears over the text]
With thanks to
our sponsors, Tchibo, along with Campbell's and Pfizer;
the Belskoye-Ustye orphanage administration, and especially the Director, Elena Nikolaevna;
our amazing group of volunteers who gave so much of themselves to the children: Chloe Barnes, Liza Chirkova, Georgia Forth, Mathilde de Germain, Daniela di Gioia, Katarzyna Gorska, Sergei Kudzik, Jessica Lee, Georgina Leslie, Timothy Martin, Philippa Mullins, Elena Nikolaeva, Timothy Patitsas, Adam Sriskandan, Vladimir Sukhov, Katharina Tjart, Arielle Tselikis;
the ROOF staff (permanent and temporary) who put so much effort into making the camp run smoothly, especially: Sergei Andreev, Ilya Chistyakov, Larisa & Nikita Ilin, Stas Kuznetsov, Marina Nord.
We enjoyed working with you all and look forward to seeing many of you again next year!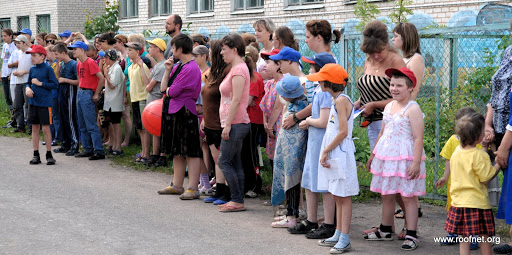 More photos in the ROOF photo gallery