News stories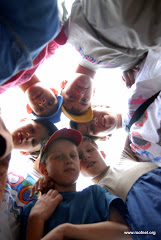 We are now seeking volunteers interested in participating in the 13th annual summer camp for the benefit of the children in the Belskoye Ustye orphanage in the Pskov region of Russia. For the month of July, a large group of international and local volunteers will provide a wide range of fun educational activities for the children of Belskoye Ustye.
If you would like to be part of this group, please see more information on the summer camp 2012 page, and complete the online form.
Please forward this message on to anyone else you think might be interested in volunteering. If you use facebook or a similar social networking site, you can also share this news by using this link on the ROOF website: www.roofnet.org/camp2012
You can also keep in touch by 'liking' ROOF's facebook page at facebook.com/roofnet or joining ROOF's facebook group at fb.roofnet.org
The latest edition of our ROOFtops newsletter has just been sent out.
Or read it as a pdf.
£15 per month can give hope to an orphan. How many can you take on?
£15 per month -- that's about 50p a day!
What can you get for £15?
Eight coffee-shop coffees OR
Eleven litres of petrol OR
A takeaway pizza OR
Hope and opportunity for an orphaned child
Help us help them: just fill in the form below!.
This is an urgent campaign to fill a funding gap, broaden our support base and enable a more reliable steady income so that we can direct more of our attention directly on our projects to help Russia's orphaned children.
Literally, your daily pocket change of less than 50p per day can help us do this.
Our goal is to find 200 new donors who are willing to sign up to give a regular £15 per month donation.