News stories
The report on ROOF's 2011 Summer Camp in Belskoye-Ustye is now available. With many photos of children and volunteers, and with text written by a variety of the volunteers, you can get a full picture of the events of this past July.
[To view the report full-screen, click the 'Expand' button that appears over the text]
With thanks to
our sponsors, Tchibo, along with Campbell's and Pfizer;
the Belskoye-Ustye orphanage administration, and especially the Director, Elena Nikolaevna;
our amazing group of volunteers who gave so much of themselves to the children: Chloe Barnes, Liza Chirkova, Georgia Forth, Mathilde de Germain, Daniela di Gioia, Katarzyna Gorska, Sergei Kudzik, Jessica Lee, Georgina Leslie, Timothy Martin, Philippa Mullins, Elena Nikolaeva, Timothy Patitsas, Adam Sriskandan, Vladimir Sukhov, Katharina Tjart, Arielle Tselikis;
the ROOF staff (permanent and temporary) who put so much effort into making the camp run smoothly, especially: Sergei Andreev, Ilya Chistyakov, Larisa & Nikita Ilin, Stas Kuznetsov, Marina Nord.
We enjoyed working with you all and look forward to seeing many of you again next year!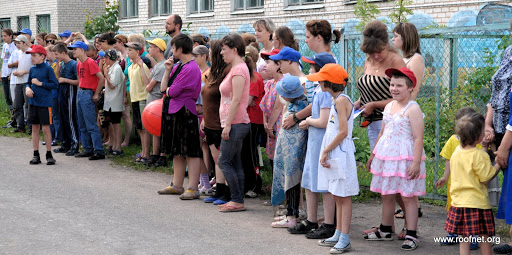 More photos in the ROOF photo gallery
Thank you to all of you who pray for ROOF's work on a regular basis. One of our prayer requests last time was for a boy from a PNI (so-called 'psycho-neurological' or MHSD orphanage). A judge had denied permission for him to be adopted, saying that his disabilities meant he was better off in the institution! Thanks to all your prayers, this decision was overturned, and he will be able to go home with his adoptive parents in the near future. Please continue to pray:
for the little girl who has Downs in an orphanage we work with, and who has willing and ready adoptive parents just waiting for the approval to take her home;
that the last month of preparation for the summer camp goes well, and that the volunteers work well together and provide much-needed help and broaden the horizons of the children of Belskoye-Ustye (www.roofnet.org/camp);
for ROOF to find pyschologists who do not have an overly-medicalized, deterministic view of the world;
that ROOF's relatively new management in Russia work effectively and prayerfully;
that Valeri, the father of our new Development Director Inna, who has Lou Gerig's disease and seems to have reached the final few months of his life, will be able to be kept comfortable and overcome his fears; for his carers to be diligent and caring; and for Inna as she tries to balance work and this difficult family issue;
that we can keep up with our funding needs (currenty an additional $5000 per month is needed)
that we can meet our campaign target and find the remaining 191 donors who will set up a regular $25/month donation (www.roofnet.org/25).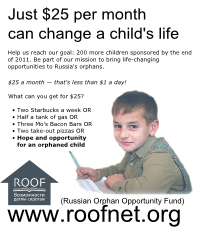 It costs $25 a month to give hope to an orphan. How many can you take on?
$25 a month -- that's less than $1 a day!
What can you get for $25?
Eight coffee-shop coffees OR
Six gallons of gasoline OR
Six 9oz chocolate bars OR
Two take-out pizzas OR
Hope and opportunity for an orphaned child
Help us help them: www.roofnet.org/donate -- enter your details, set the amount to $25 (or whatever you want) and check "I would like to make this a recurring donation".
This is an urgent campaign to fill a funding gap, broaden our support base and enable a more reliable steady income so that we can direct more of our attention directly on our projects to help Russia's orphaned children.
Literally, your daily pocket change of less than $1 per day can help us do this.
Our goal is to find 200 new donors who are willing to sign up to give a regular $25 per month donation.